Does the wedding of your dreams come with decadent Southwestern cuisine, charming adobe-style venues—and perhaps some turquoise-studded cowboy boots with that dress or tuxedo?
This Old Town Albuquerque hotel is a favorite for weddings. Featuring multiple ballrooms and menus tailored to meet your needs, always highlighting local ingredients and dishes, Best Western Plus Rio Grande Hotel is the perfect venue to start your life together.
Located in beautiful Old Town, the Best Western Plus Rio Grande Hotel is just 14 minutes from Sunport Airport and has a free shuttle service.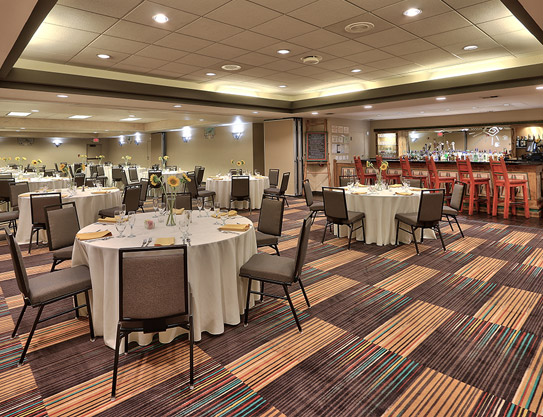 Why Brides & Grooms Choose Our Old Town Albuquerque Wedding Venue:
Three ballrooms to choose from, accommodating up to 150 guests
On-site event planning services to customize everything from entertainment to choosing complimentary centerpieces
Special rates for guests and a complimentary bridal suite for the big day
Easy access to the airport, just 14 minutes away with a free shuttle service
Accommodations are available for up to 150 guests, and the on-site event coordinator works with guests through the entire process. Get expert help with entertainment coordination, whether you're looking for a DJ, live band, or string quartet. Full-service custom wedding packages are available at a variety of levels and price points. Special room rates just for guests, along with complimentary parking, make planning your big day simple and enjoyable.
A permanent, handcrafted bar is also on-site, always stocked with wine, beer, and top-shelf spirits. Whether you're interested in a hosted bar, no-host bar, or prefer to go non-alcoholic, cocktail (or mocktail) hour for weddings is fully customizable.
Start your journey together surrounded by the works of artist David Schumann. His Southwest drawings are highlighted throughout the Best Western Plus Rio Grande Hotel for an added boost of authentic New Mexican style. Cake cutting, champagne toast, and ice sculpture services are always an option.
Design your Old Town Albuquerque wedding to reflect who you and your fiancé or fiancée are, all while enjoying complimentary room set up and break down, complimentary centerpieces, and a complimentary bridal suite.
Make your wedding the event of the year with Southwestern flair that will keep guests gushing all the way to your first anniversary.
Contact Us
For more information on our meeting, banquet, and catering services please contact Becca Smith, our Director of Catering, at (505) 217-1603 or e-mail her at [email protected].